So you've got a great idea for a new online business - or maybe you want to take your existing business online. One of the first things you'll need to do is to secure a domain name - but finding the right domain name isn't always easy. Here's some advice to help you find, purchase and register your perfect domain name:
Searching for an available domain name
Before you can secure your domain name, you need to determine if it's available. To do so, you can go to any number of domain registration sites and perform a whois search. OR, you can use our handy tool right here. Give it a try:
Registering a domain name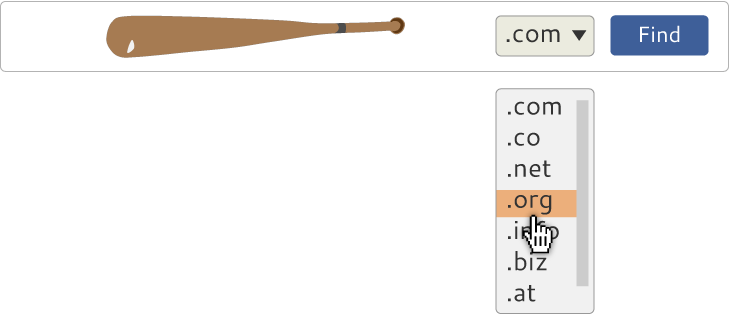 Congratulations! You've found the perfect domain name. Now you need to register it before someone else beats you to the punch. Seriously. There's nothing worse than the regret of mulling over a domain purchase only to find out it's already been registered. What kind of person would do that to you?!? Don't they understand that was the perfect domain? Yes - that's why they came up with the same idea and had it registered.
Before you jump on board, there are a few quick pointers to help you choose a domain registrar:
Make sure that your registrar gives you access to "lock" and "un-lock" your domain. This feature allows you to move to another domain registrar without relying on your current registrar's customer service staff.
Similarly, some TLDs (top level domains) such as .BIZ, .INFO and .ORG just to name a few, will require an "auth code" in order to allow a transfer to occur. You'll want to make sure that you either have direct access to this, or that you're working with a reputable company with responsive and professional support staff.
Be careful before paying for or enabling "whois privacy." Some registrars offer a free or paid service to use their contact information on your domain's whois records in order to protect your privacy. The issue is that your registrar can technically become the legal owner of your domain - so you should be careful to work with a reputable registrar and carefully read their terms of service.
Watch out for hidden fees such as a fee to edit your whois information or a fee to lock and un-lock your domain. You won't lose your domain over this, but it's certainly not pleasant.
With that out of the way, here are a few companies that can help you register your domain name. Many also offer web hosting and a number of other services:
Woot! It's registered... Now what?
Well, for the time being you can breathe easy. You own your domain name and you should have at least a year before you have to worry about renewing the registration.
In the meantime, you'll want to configure your DNS to ensure that your domain name is pointing to your web server. If you registered your domain name with your web host, you shouldn't need to worry about this. For everyone else, you'll need to update your nameservers or A record to point to your website. This can be complicated - so if you may want to consult your registrar's support staff for help.
Other Considerations
What if someone else owns the domain I'm looking for?
Unless your name is extremely unique, chances are your first choice has already been registered. So you may need to get a bit creative. Here are a few tips:
Consider alternate TLDs (top level domains) such as .NET, .BIZ, and .INFO. These may not roll off the tongue like ".com," but having your preferred name may take some compromise.
You might also consider using a specific TLD to help spell your desired name. For example, if you were looking to create a website about bobcats and bobcat.com was already registered, you might consider using Austria's TLD (.AT) to create bobc.at (which is already registered, but you get the idea). For a complete list of available top level domains, visit http://www.iana.org/domains/root/db.
Try using wordplay to find unique words or mashups to describe your online business. Most of the time, the artful wordsmith will be able to find a domain that fits like a glove.
If all else fails, you may consider purchasing a premium domain or consulting a domain broker.
Premium domain names & domain brokers

Premium domains are far more expensive than standard domains because domain registration websites understand the potential business value of the name. In some cases, registration sites have been accused of "front running" - a process in which a registrar monitors whois searches on their site and registers domains before they can be purchased.
Ethics aside, premium domain names can be worth the cost for some businesses. Do be careful to read the fine print before purchasing to ensure that the purchase terms are in keeping with your expectations.
Domain brokers can help negotiate a purchase of your domain, typically for a percentage of the total sale price. For this to be worth a broker's time, you would typically be looking at a 4+ digit price tag - and that price might be much higher if the current owner is reluctant to sell. If your domain is worth the high cost, be sure to choose your domain broker wisely. Consider their reputation, previous performance, fee and check references where possible.