Walking the Fine Line Between Success and a Train Wreck
- or -
Why the New Mountain Dew won't be called "Diabeetus"
Engaging your online audience with polls can be a hugely successful marketing strategy - but sometimes things can go horribly wrong. In August 2012 "Dub The Dew," an online contest designed to name a new Mountain Dew drink, fell victim to misuse and hacking that eventually led to the demise of dubthedew.com. Hackers entered and promoted offensive suggestions including "Gushing Granny," "Diabeetus" and a slew of off-color and even hate-filled submissions in an attempt to force Mountain Dew to choose an inappropriate name for their new beverage. Mountain Dew responded via Twitter saying "Dub the Dew definitely lost to The Internet. It was a local customer program, not a Dew one, & we're helping them clean up." Nevertheless, significant damage has been done to both dubthedew.com and Mountain Dew's brand reputation at large.

Why was Dub The Dew such an appealing target for hackers and how can you help keep your online promotions from being targeted? To answer this question, let's take a look at a contest we recently created for rockstar client, Jordan Matter Photography. In April 2012, Jordan Matter Photography was looking for a way to engage and grow their online audience while raising awareness for Jordan's upcoming book focusing on his Dancers Among Us project. After discussing a few options and the associated advantages, disadvantages and risks, we decided on a contest to help name the upcoming book. The result was a resounding success that created a great deal of awareness for the Dancers Among Us project, not to mention some great market research that helped in making the final choice for the book title: Dancers Among Us: A celebration of Joy in the Everyday (now available for pre-sale at www.dancersamongus.com/purchase).

So why was the Design Brooklyn designed & implemented "Dancers Among Us Book Title Contest" a huge success and the "Dub The Dew" soda naming contest for Mountain Dew such a huge (and highly offensive) train wreck? In this case study we will identify key factors contributing to the success of DB's marketing campaign for Jordan Matter Photography and the failure of the notorious contest to name the still nameless green apple-infused soft drink.
Accountability
In the online world, anonymity can be extremely empowering - so much so that it can lead to mayhem. After all, if there are no consequences, why shouldn't you suggest an illicit name for a soft drink? In approaching Jordan Matter Photography's contest, we required participants to log-in either via their Facebook account or via a confirmed e-mail address and password. By requiring a log-in that helps verify the identities of each participant, individuals feel a sense of accountability for their actions and moderators are able to easily trace any inappropriate content or illicit activity back to specific individuals.

Dub The Dew unfortunately did not require a log-in, so participants identities were unassociated with their entries and they consequently felt no responsibility to post quality content. In fact, many felt compelled to do the opposite.
Incentive to do well
The Jordan Matter book title contest offered participants a first place prize substantial enough to ensure active participation. The contestant with the most votes at the end of the competition received an autographed copy of the Dancers Among Us book, a 20x24" print of their favorite Dancers Among Us photograph, and a shout-out of gratitude in the published book. The Mountain Dew soda naming contest offered a first place prize of a skateboard and weekly prizes including Mountain Dew gear. To say the least, the prizes were a bit underwhelming and the weekly prizes were to be doled out randomly - which greatly reduced the incentive to produce quality suggestions.

Providing the masses with an incentive to do well gives participants a reason to put forth their best effort and raises the stakes by heavily promoting their entries, ultimately creating a more driven audience, greater chances of viral growth and a more successful contest.

An audience of engaged users
Jordan Matter Photography's online promotions have grown organically over a number of years to form a uniquely enthusiastic group of followers and promoters. These users have seen the Dancers Among Us project grow and evolve and they were extremely excited by the opportunity to help shape the project. Because of their connection to the project, the Dancers Among Us audience wanted the best for the outcome of the contest - and the results were impressive.

In contrast, Dub The Dew was marketed to the general public. Many loyal Dew-ers did take the contest seriously and made thoughtful submissions - but a single mischievous user was able to undermine the integrity of the contest and attract a sizeable number of users interested only in contributing to the illicit effort.

Engaged users are a key factor in the success of a contest because they sincerely want the best for the company and want to aid in the company's success through participation - and if well encouraged, they can become active promoters.

Security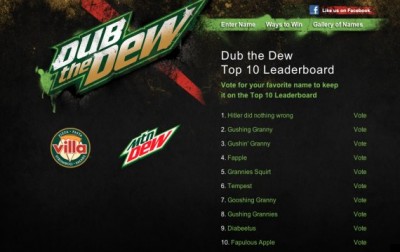 While it's impossible to ensure that a website is 100% hack-proof, Design Brooklyn implemented numerous security measures to help ensure the success of the book title contest and the security of the site it was hosted on, dancersamongus.com. Secure user accounts, proactive moderation and prevention of automated voting helped keep the contest safe and fair.
The Dub The Dew hackers appear to have exploited a vulnerability in the contest that allowed for votes to be submitted repeatedly (and presumably automatically). Hackers were also able to break into the site, placing messages of their choosing for all to see.
Hacking is a serious concern when granting users access to insert their own content on your website. Make sure that you're aware of the risks and that your security measures protect you from the latest and most prevalent threats.

Conclusion
It's very important to choose carefully which marketing strategy is right for your specific campaign, so prevent a "Dub the Dew"-style catastrophe with a Design Brooklyn social media consultation. We'll help you find the perfect social media strategy for your brand, your goal, and your audience: http://www.designbrooklyn.com/services


References
For more information on "Dub the Dew":
To view an archived version of the Dancers Among Us Book Title contest, visit www.dancersamongus.com/contest/
To browse Dancers Among Us images and purchase the book, visit www.dancersamongus.com