Intro

Long-time client Jordan Matter, renown photographer and author of Dancers Among Us - A Celebration of Joy in the Everyday came to Design Brooklyn looking for a new marketing strategy to promote his book. Since we've worked closely with Jordan in the past, crafting www.dancersamongus.com and www.jordanmatter.com, we knew the best approach for the situation. It was time to include a fresh new element on www.dancersamongus.com.
But first we needed to outline a few objectives that the new functionality needed to achieve:
Interaction: Engages the viewers in an activity that required their participation.
Service: Provides a fun but also useful service.
Promotion: Promotes Dancers Among Us - A Celebration of Joy in the Everyday.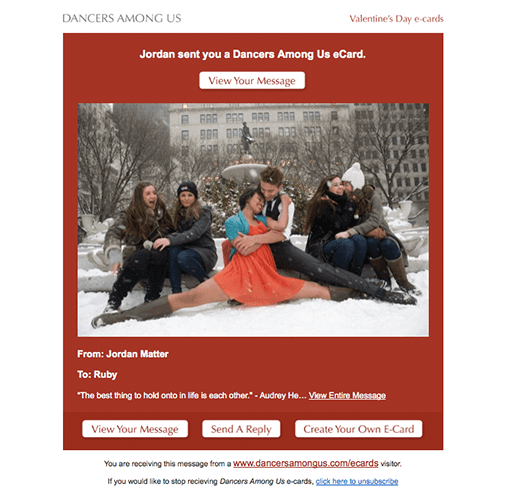 Ultimately, we concluded that allowing viewers to send e-cards through www.dancersamongus.com was the most interesting and fun approach. With it closely approaching Valentine's Day, we knew it was also the perfect opportunity to promote photos from the Loving chapter of the book. A chapter filled with photos of love and romance - there is no better way to spread the love than to share it with your loved ones.
E-Cards System
The e-card system, a service designed and developed by Design Brooklyn, provides users with an easy and friendly way to send customized e-cards to friends and loved ones. Built from the ground up, the system allows for easy but effective text editing for personalized messages and/or use of suggested popular quotes. Along with a lovely message, we've included the ability to select a photo from a variety of stunning photos perfect for the occasion. Altogether we wanted the experience to be extremely fluid, efficient, and effective. So lastly, we made sending e-cards to multiple recipients quick and easy.

The result is an e-card sent to your loved ones that is clean, elegant, and beautiful in every way.
Follow Up
As Valentine's day approached and past the e-cards proved to be a success. It confirmed our belief that the e-cards would be a great addition to the Dancers Among Us website, not only for Valentine's day but also for future use. With this in mind, we included the ability to add categories and a new assortment of photos to suit every occasion. Since the e-cards have been fully integrated with Design Brooklyn's custom CMS on www.dancersamongus.com, adding and editing categories and photos is an easy and simple task - opening new doors for future opportunities.

What started as a service to promote Dancers Among Us for Valentine's day has become an integral part of www.dancersamongus.com. Promoting Jordan's book Dancers Among Us and his philosophy of Celebrating Joy in the Everyday as a whole.

Try it out for yourself!